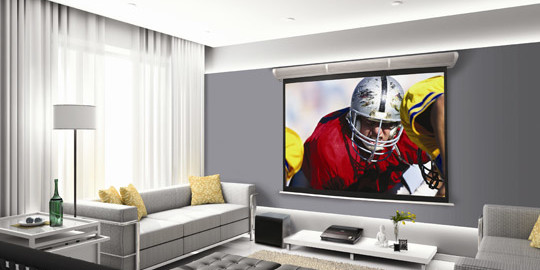 Top 3 Home Theater Projectors of Summer 2013
TOP 3 HOME THEATER PROJECTORS
Looking to save some space? You might want to try using a home theatre projector instead of a regular television set. A lot of people enjoy using their walls as a giant television screen and you just might find your very own home mini cinema a great idea.
The great news is there are a lot of home theatre projectors that combine quality, affordability and usability. For the purpose of this article, we are going to look at the top 3 quality projectors available for use.
THE EPSON POWERLITE HOME CINEMA 835: This awesome, small projector is extremely powerful. It is a full 1080p HD LCD projector with two HDMI ports, component video, S-video, one VGA port and a RS-232c Port. Epson Powerlite gives very minimal rainbow effect and has a wide range of connectivity options. This helps it stand out from the rest. The Epson Powerlite lamp can be used for a whooping 4000 hours before there would be a need for replacement. It goes for around $1299, not a bad buy huh?
THE OPTOMA HD33: This is an awesome 3D projector. It projects at 1800 ANSI lumens and is capable of 1080p HD. It can conveniently cover up to 300 inches of wall space and still remain clear and bright. HD33 is quite affordable. It has a lot of connectivity options for a wide range of devices. The Optima HD33 also has two HDMI ports, composite video, a VGA port, component video, RS-232 and a +12 trigger. There is a VESA 3D port at the back of the Optoma HD33. You can get this projector at $1000 – $1300. A great price considering what it can do for you.
OPTOMA GT750E: It is the typical gamer's projector and much more. It can fit into small spaces and packs but short on space, then give this very affordable projector a try. It sells for $750 in stores and can even be found for $700 on Amazon. Although it is a 720p model, it is also 3D ready. A lot of customers have expressed satisfaction with this projector.
We've done the hard work; go ahead and make a smart, informed choice today.
https://datawiresolutions.com/wp-content/uploads/2013/07/hometheatreprojector.jpg
405
540
Thomas McCormack
https://datawiresolutions.com/wp-content/uploads/2023/03/dws-logo-grey.svg
Thomas McCormack
2013-07-29 17:50:40
2014-09-28 20:42:17
Top 3 Home Theater Projectors of Summer 2013