Top 3 Business-Grade Wi-Fi Routers for Large Homes
Wireless networks have different requirements and levels of complexity, and this means that there are various routers which have been designed to cater to these unique set of features. Although Wi-Fi priorities for different homes are not the same, some of the common factors that people look for when it comes to Wi-Fi routers include support, security, scalability and connectivity options. Outlined below are the top 3 business grade Wifi routers for large homes.
1.Ubiquiti UAP-AC-HD Unifi Access Point
Ubiquiti Unifi Access Point has a well-refined industrial design that's ideal for large homes as it can be deployed in environments of high-density that require maximum performance of wireless networks.

Key Features
•It uses a 4×4 -multi-user MIMO technology.
•It's perfect for both indoor and outdoor environments with over 500 client connections.
•The router has a 4-stream 802.11AC Wave-2 technology.
•It has compatibility of 802.3at Poe+
•Ubiquiti UAP-AC-HD has an independent 2.4-GHz radio rate with speeds of up to 800Mbps and a 5GHz radio rates with speeds of up to 1733 Mbps.
Design
The multi-user, multiple-input and multiple-output router use the MU-MIMO technology that allows Wave 2-AP to be able to communicate with various clients simultaneously thereby increasing the throughput and improving the overall user experience.
•Radio Hardware Acceleration
The 2.4GHz and the 5GHz dedicated radio hardware acceleration help to reduce latency while enhancing the multi-user throughput.
•The CPU Hardware Acceleration
This is a dedicated hardware-offload that's designed for QoS, Client Management, and Guest Control.
•Beamforming
This is where data is sent or received via multiple antennas leading to an increase in range and throughput.
Related Articles: The 5 Pillars of a Modern Smart Home
2.Synology RT2600AC Wi-Fi AC 2600 Gigabit router
It's one of the best Wi-Fi routers for large homes thanks to its super speeds of up to 2.53Gbps. Synology RT2600AC helps to redefine the home network with its solid wireless connection and enhanced security.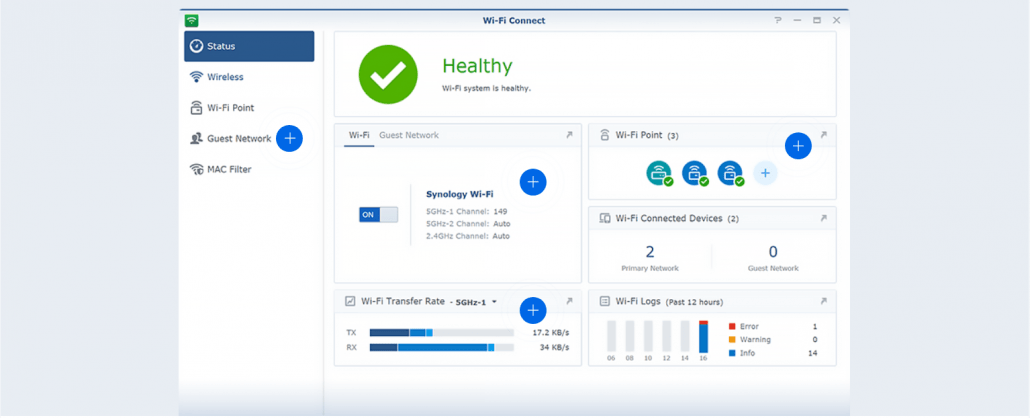 Key Features
•It has a smart connection that allows seamless transition between range or the maximum speed.
•A 4×4 802.11ac wave-2 radios which have the MU-MIMO design and wireless speeds of about 2.53 Gbps.
•It has a powerful 1.7-GHz dual-core processor that delivers unmatched performance.
•Its Dual WAN is capable of providing failover support and load balancing.
•The router has hardware accelerated layer 4 and seven engines for monitoring and traffic control.
Design
•Powerful range and Wi-Fi Performance
Synology RT2600AC router supercharges your home network, and it provides enough bandwidth that is sufficient for big families.
•Professional Level Control
This gigabit router has been designed with modern traffic-monitoring tools which help to shape data flow in home networks.
•Simple Setup and Management
Synology RT2600AC gigabit router is refreshingly easy to set up and to manage. The Synology Router Manager makes it even easier to navigate the router's operating system.
•Content Filtering and Parental control
There are a lot of things on the web some of which aren't suitable for kids. This router has a parental control option and content filtering tools which allows you to block inappropriate sites and customize your bandwidth.
3.The Google Wi-Fi system
This 3-pack router offers seamless Wi-Fi connection all over your home. The Google Wi-Fi System uses mesh-network technology and connects numerous smart devices.

Key Features
•It uses the network assist technology which ensures that the connection is always fast. This technology also selects the quickest band and the clearest channel for your devices.
•The router is compatible with various internet service providers such as Verizon Fios, Time Warner, and Comcast.
•It has a 2×2 Wave-2 expandable mesh Wi-Fi which offers seamless connection, eliminating the dead zones.
•The Google Wi-Fi system has 2.4Ghz/5GHz dual-band Wi-Fi, and it supports 802.11a/b/g/n/ac
Design
•Basement to Attic Connection
Google Wi-Fi system has strong network signal that connects to any smart device, from the basement to the attic.
•Network Assist
This router can keep it's connection fast by selecting the fastest band and the clearest channel for your gadgets. It has been designed with an ultra-modern software that continuously works in the background to ensure that your network is well-managed.
•Wi-Fi Control
The Google Wi-Fi System offers users a simple way of controlling Wi-Fi. A parent can pause the Wi-Fi connection on their child's device, e.g., during mealtime, bedtime, etc. The companion application also means that you can prioritize which computers you allow on the network. You can also see other network devices that are connected to the system and share your network's password with guests.
https://datawiresolutions.com/wp-content/uploads/2018/10/family-focus-on-wireless-technology.jpg
666
1000
Thomas McCormack
https://datawiresolutions.com/wp-content/uploads/2023/03/dws-logo-grey.svg
Thomas McCormack
2018-10-11 14:57:06
2022-10-27 19:15:59
Top 3 Business-Grade Wi-Fi Routers for Large Homes